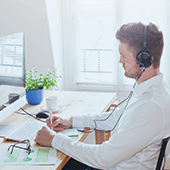 It is no secret that the internet is unsafe, with attacks occuring every second. Having a secure network that ensures privacy when communicating with others through the internet can be even harder. As a solution, Skype recently launched a new feature that guarantees total privacy when conversing.
Benefits of using Private Conversations
Named 'Private Conversations' by Microsoft, this new feature allows all audio calls, text messages, and multimedia messages to be encrypted. This means that when the feature is enabled, only the sender and receiver will be able to view or hear the transmissions. Even if they were to be intercepted, their contents would be totally garbled.
Although Skype has already been providing basic encryption to its service, elevating this feature to something called "end-to-end encryption" prevents unintended parties -- such as cybercriminals or even the government -- from tapping into private conversations, ensuring peace of mind to more than 300 million users.
Beta stage of testing
Currently still in its testing stage, end-to-end encryption is available only in the beta version of Skype Insider. To activate it, select "new private conversation" from another user's profile or Skype's "compose" menu.
Currently, Private Conversations do not support video chat. And although conversation contents are encrypted, conversation details -- such as the call duration and when it occurred -- can still be accessed by Skype.
Other end-to-end encrypted VoIP services
From free consumer communication apps like WhatsApp to business solutions like RingCentral, and many other VoIP services, end-to-end encryption is becoming more prevalent every day.
Skype for Business sells it as a simple, DIY telecom solution. But with cyber attacks getting more sophisticated every day and the increasing number of data security regulations, a lot can go wrong. If you're interested in switching to a VoIP service, or want us to assess the security of your current solution, give us a call.
Published with permission from TechAdvisory.org.
Source.