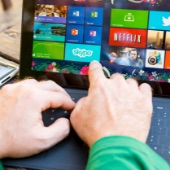 With businesses making adjustments due to the COVID-19 pandemic, concerns about data integrity of work from home (WFH) setups have multiplied. But as long as you can properly configure Windows and Office, your business data will always remain protected.
Before the pandemic broke out, companies across the United States had already been on the lookout for remote work possibilities, because of the flexibility and cost-effectiveness of the cloud. Back then, the technology was used to take advantage of market and location opportunities, but with entire cities going on lockdown to stem the transmission velocity of the coronavirus, enterprises across the continent have turned to digital solutions for their respective workforces to remain productive at home.
Microsoft's Windows and Office 365 engineers have geared both sets of software to be user-friendly across different platforms — and by extension, many Windows-ready third-party applications enjoy the same benefit. For many organizations, especially small- to medium-sized businesses (SMBs), this means no need to switch to a more remote-friendly system. But because of the suddenness of the transition, there are questions whether Windows, Office, and other supported software have ample security features in place.
Windows 10 1709
Microsoft announced in mid-March that Windows 10 version 1709 (Fall Creators Update) will remain supported for six more months, in anticipation of the socioeconomic effects of the COVID-19 pandemic. The tech giant also stated that vital updates will continue for version 1709 through its regular channels, namely Windows Update, Windows Server Update Services (WSUS), and the Microsoft Update Catalog.
Through the service coverage extension, Windows 10 version 1709 can still be managed through all supported versions of Microsoft Configuration Manager. This will allow users to retain existing management workflows until October 30, 2020.
Remote-ready setups
Virtual private networks (VPNs) and Remote Desktop Protocol (RDP) connections are necessities for work from home setups, but this has left many IT managers worried about security risks. Experts have suggested deploying a trial version of Windows Server 2016 or 2019 as a workaround. This server software has remote desktop services that are bundled with remote desktop gateway (RDG) and RDWeb technologies, ensuring encrypted remote access.
Microsoft has also published optimization instructions for Office 365 users to properly implement VPN split tunneling for their remote work setups. Routing Office 365 applications — such as Teams, SharePoint Online, and Exchange Online — through a split VPN tunnel ensures that the most critical, high-volume Office 365 traffic is quickly patched through to the company server, and not left at risk of loss that stems from the common customer-performance and network capacity issues many enterprise-level clients report.
Other practical tips for WFH
Remote performance depends largely on home internet performance, so that matter boils down to the reliability and speed of your employees' internet providers' services. Your staff can take steps to limit their bandwidth loads, such as by not using video streaming services while working, cutting down the recording quality of home security cameras from HD to standard definition, and allowing office IT to remotely optimize the personal devices your employees intend to use for remote work.
Lastly, consulting with your IT partner will surely put you in a better position to cope with the demands of remote work. Managed IT services providers (MSPs) like us are regular remote access practitioners. We handle remote services on a daily basis and provide you with valuable insights on how to keep your business running smoothly through these trying times. Contact us today to learn more.
Published with permission from TechAdvisory.org.
Source.